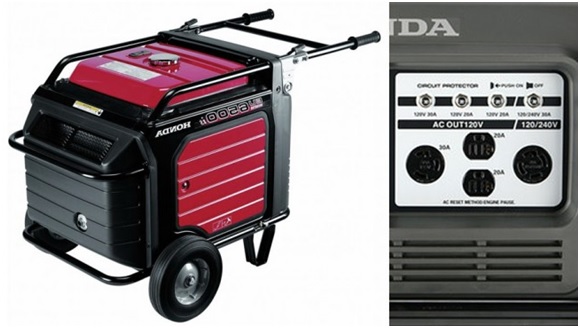 No one likes to lose electricity. In today's unpredictable world, a portable home generator can give you peace of mind.
A portable generator is a key component to emergency readiness. Without electricity, how will you heat your home and keep your refrigerator, water heater and other essential electrical appliances running?
Remove the uncertainty and risk of power outages with a portable home generator. It will give you peace of mind so that you won't have to worry about the well being of your family when the electrically controlled systems in your house stop working.
Generators are typically sold by wattage. How much wattage they put out determines not only how many lights and appliances you can run at once, but how well they run. For example, a refrigerator often requires about 600 watts, a portable heater 1,500 watts, a window air conditioner 1,000 watts, and lights 60 to 200 watts.
Portable generators operate on gasoline and include 120-volt power outlets like the ones in the walls of your home. Shortly after losing electricity, you'll need to start the generator in order to send needed power to your home. Portable generators can be stored in a garage or shed when you're not using them.
We can find a generator solution that will work for you by assessing your home's energy needs, as well as factoring in the size of your home. We'll assist you with the purchase. There are many excellent home generators to choose from. You don't want to lose a refrigerator/freezer full of food or not have access to the outside world via your television, radio, computer or cell phone. You also don't want the water pipes to burst in your basement when the temperature dips below 45 degrees.
By the time we're done, your household is fully prepared to have power in an emergency situation.
We're the MetroWest Area Portable Generator Experts
This individual care, combined with our experience, makes us the logical choice for portable generator installation.
We will provide you with:
Professional and friendly service, including a spotless work site on completion.
The most competent technicians in the MetroWest area.
Continuing customer service. After installation, if you have questions regarding your generator, contact us.
A 100% guarantee – we stand behind the quality of our work.
WattsControl, Inc. has the knowledge and skills to provide you with the best portable generator for your family's needs.