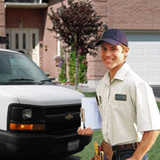 Appointments are scheduled in order for one of our licensed electricians to come out to your home or office to repair or replace an electrical item that isn't working properly.
Appointments can also be made for a number of other reasons such as the installation of a new light fixture, light switch or outlet, or to discuss adding new indoor or outdoor lighting or any other electrical needs that you have.
WattsControl, Inc. responds quickly to the needs of our customers. If something electrical has stopped working, you want it operational again as soon as possible.
Your appointment is scheduled in a timely manner so that the electrical problem gets fixed quickly and correctly.
When you think electrical, think WattsControl, Inc.