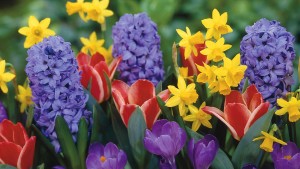 Soon the cold, snow and ice of this past winter will be just a memory.
How often have you thought that you'd like to update certain areas of your home but somehow you never get around to it? It's time to stop procrastinating and make a to-do list!
Start with your walls. Is your present wallpaper or paint faded, peeling or just not what you want to look at any more? Pastels or bold primary colors can create a totally new effect. If a new coat of paint isn't in your budget, one or two pairs of throw pillows arranged on an existing sofa can change the look of your room. You could also place a new area or scatter rug on the floor or carpeting to bring the focus on the interior of the room, not the walls.
Now move onto your floor. Is the carpeting stained, worn or faded in a few areas from the sun? A carpet cleaning company can add new life to your wall-to-wall carpeting. You can then rearrange your furniture to hide the faded areas on the carpeting. You'll be pleasantly surprised at how different the room will appear after the furniture has been repositioned. A purchase of new sheer curtains or valances will also add to the new look that you've created.
Take a look at the lighting in your house. Are some of your rooms too bright or too dark? A ceiling fixture that's controlled by a dimmer switch can change the mood of any room from casual to romantic.
Do you have some non-working wall outlets? Add these to your to-do list and after they've been repaired, you could create a cozy reading area by placing a comfy overstuffed chair and a unique floor lamp in a corner of the room.
Does your home theatre system need an overhaul? Maybe a new surround sound system will be all it takes for your family to enjoy watching movies again in the comfort of your home.
These are just a few ideas on ways that you can update your home in order to fall in love with it again. Look through magazines, visit design centers and then come up with some ideas of your own to brighten up and refresh your home.
For all the electrical items on your list, call WattsControl, Inc. at 508-309-6631 or visit our website at wattscontrol.com.