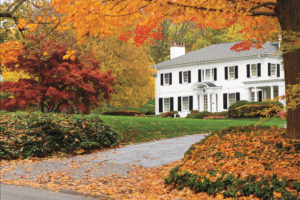 The leaves are falling and there's a chill in the air. It's time to look at what you can do to insure that your home and its electrical systems are ready for the winter months ahead.
If you're considering having new insulation installed through Mass Save® as a result of a home energy assessment, WattsControl, Inc. can inspect your attic and basement for knob and tube wiring, determine if it's present, and if found, remove it. They also perform "IC Rated Inspections" to ensure that there is proper clearance between any existing light fixtures and the insulation. Once the inspections have been completed, and any issues that were discovered are corrected, you'll receive a home electrical safety inspection form that is forwarded to Mass Save®.
Maintaining your oil or gas heating system with an annual tune up is essential. In addition to having an efficient heating system, homeowners can save money and conserve energy with a computerized Nest Learning Thermostat. WattsControl, Inc. electricians are Nest-certified professionals. The Nest thermostat automatically adapts to the temperature preferences that you set as the seasons change. Your cooling and heating settings can be adjusted at home or from your smartphone or computer. Within a week, it will remember the cooling and heating patterns that you're comfortable with in your home. If you're away from your house and the temperature falls below your preset safety temperature, the Nest system can alert you before the pipes freeze.
Take a look at your exterior lighting and make sure that your driveway, walkway and front porch are well lit. Leaves and snow can block the path to your front door. Don't risk having visitors who are walking to your front porch take a misstep and fall.
Check that your doorbells work properly. When the temperature drops, you don't want your visitors standing outdoors longer than necessary.
If you use an electric snow blower, make sure that the exterior electrical outlet has a weatherproof cover so that it doesn't short out from water entering the circuit.
Change the batteries in your smoke and CO detectors. According to the NFPA (National Fire Protection Association), three of every five home fire deaths resulted from fires in homes with no smoke alarms (38%) or no working smoke alarms (21%). Don't risk the safety of your family – replace the batteries today. If you don't have smoke or CO detectors in your home, it's time for you to purchase them.
Flames can consume a home in as little as five minutes. Working smoke alarms double your chance of surviving a fire.
Consider purchasing a portable generator. A portable generator will ensure that your family has electricity to keep your refrigerator and furnace running in addition to other essential electrical appliances that you'll need when the power goes out.
If you use a portable electric space heater, make sure that it has the seal of an independent testing agency, a thermostat and overheat protection and an auto shut-off to turn the heater off if it tips over. Never use space heaters with an extension cord or power strip, which could overheat and result in a fire.
WattsControl, Inc. wants your family and home to be safe in the coming months. For any electrical needs that you have, please call us at 508-309-6631.