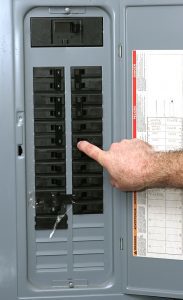 Homes built before the 1970s require a special amount of care. These homes might not technically be considered old, but they were not built with today's standards in mind. Before the 1970s people didn't have the technology we have today. Kitchens were more basic and didn't include as many appliances – people didn't have a need for a toaster oven, a separate freezer, a blender, a Keurig, and so on. CRT TVs were the only source of entertainment. Laptops and advanced gaming systems were far in the future. Today's electrical panels must be larger and able to hold more of a capacity where old panels had little space for room. If you're home was built in the 1970s or before, you may be noticing problems with your electrical system. It may be time to consider upgrading your panel. Our Newton electricians can help with all your electrical panel upgrade needs.
A 200-amp service is generally the norm with homes built today but if you have an older home you may only have a 100-amp panel – or even just a 60-amp panel. A 200-amp panel is more than enough for today's electrical needs. Even though appliances are being upgraded to be more energy efficient, families are always getting more and more technology in their homes, for example home automation. Electricians in Newton, like those at Watts Control, Inc. can help you decide on what's best for your home.
Watts Control, Inc. can help you understand if you need a panel upgrade. Here are some signs to look for:
Tripping Breakers
Lack of Outlets
Outdated or Dangerous Panel
Breaker or Connection Corrosion
Regular Power Surges
Warm to the Touch Panel
Burnt Breakers
If you have any concerns about your electrical panel, make sure you call your electrician. Newton homeowners are able to get an inspection from Watts Control, Inc. and we will give you expert advice. Call us today to get started!