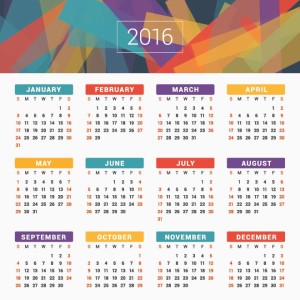 The year 2016 has arrived. So far, so good, right?
A number of people make New Year's resolutions and then within a week or a month, they fall by the wayside.
Here are some resolution suggestions that you might actually keep.
Perhaps you've decided that it's time for you to start exercising more than you've been doing. Unfortunately walking back and forth to the refrigerator doesn't count! Let me be honest with you: I like to exercise, but I don't like to work out. It's not that I have anything against physical fitness; it's just that I don't want to work out in a gym where there are several dozen sweating human bodies crammed into a space that's too small and too hot. I tried it once and it felt claustrophobic to me and I couldn't leave there quickly enough. What I find works for my schedule is to walk briskly two or three times a week for about thirty-five to forty-five minutes. I don't do this to lose weight, but to get my circulation moving, increase my heart rate and tone up my body a bit. Walking also helps you to unwind after a busy day at work or taking care of your family. The fresh air will clear your mind and allow you to focus on your surroundings. If the weather outside doesn't cooperate with your walking plans, an exercise bicycle or a home treadmill are excellent alternatives. You'll find that time passes quickly if you watch television or read a book when using either of these machines. The bottom line is that if you're motivated enough to want to make your body a little bit healthier, you'll put aside the time to exercise.
Another resolution would be to reconnect with your family and friends. On face value, that seems easy enough, but when you're working full time and have a household to run, there's never enough time. You need to make the time. Put aside one or two nights a week after dinner, turn off the TV and call your sister or brother whom you haven't talked to in months, or that friend who you've been thinking a lot about lately, or your grandfather or grandmother or your favorite aunt who always remembers to send you a birthday card, even though you're forty-six years old. Let these people know that you're thinking about them and want to know how they're doing. They'll be thrilled that you called and you'll feel good that you took the time to reach out to them.
Maybe your resolution is to enjoy life more. Life can be tedious if you're doing the same thing, day in and day out. It's time for you to shake things up a bit and try something that would be interesting or fun to do. Have you ever thought about working with clay? You could take a class and learn how to create utilitarian or whimsical pieces of art. Whatever you imagine, you could make. How about adding a little pizazz to your wardrobe? Are you tired of wearing the same old clothing? Add splashes of color using bright scarves or belts in unusual patterns and fabrics or purchase colorful handbags that are woven, or have animal, nature or other themes painted on them. Or, you could purchase solid colored leather belts and paint your own designs on them! Maybe you like to write. Create an interactive blog on a subject that you're passionate about. Visitors who find your blogs interesting, informative or thought provoking will respond and you may even acquire a large following. Another idea would be to audit a class at a local college for the purpose of self-enrichment and academic exploration. There are numerous ways to enjoy life. Think about what you've always wanted to learn or be or do and just go for it!
For your family's safety, another resolution should be to make sure that the electrical systems in your house are all working properly. Make sure that the batteries in your smoke detectors are changed on a yearly basis in order to insure that they're working properly.
Also on a yearly basis make sure to flip all of the circuit breakers in your electrical panel to the "off" position and then back to the "on" position. The reason for doing this is that they could stick due to layers of dust and grime and not trip when they should.
For any electrical questions or issues that you have, call WattsControl, Inc. at 508-309-6631.