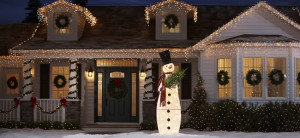 During this holiday season, people tend to rush and overlook the small details. It always seems as though there's too much to get done and not enough time to do it in. It's important to slow down and double-check everything. That way you'll make fewer mistakes and stay safe.
When you bring a cut Christmas tree into your home, it needs to be watered on a regular basis. It takes less than thirty seconds for a dry tree to engulf a room in flames. The dryer it gets, the more prone it is to catch on fire if there's a heat source close to it such as a fireplace, floor heat vents, a space heater, a portable or home radiator or lit candles on tables and mantelpieces. Make sure that your tree is not close to any type of heat source.
When using indoor lighting, inspect the light strings and throw away any with frayed or cracked wires or broken sockets. It's safer to purchase new lighting than to risk the chance of a fire.
Some cats and dogs like to drink the water that's in the tree stand. Tightly cover the opening with chicken wire or a metal or nylon mesh so that your pet can't accidently ingest needles from the tree and require an emergency veterinarian visit.
When buying lights and decorations to be used outside, make sure that they're certified for outdoor use. The label on the cord should be for a nationally recognized testing laboratory such as UL, ETL, or CSA and rated to carry the electrical load that you're connecting to them.
If you have to use extension cords for temporary outdoor lighting, make sure that they're plugged into the correct type of outlet, UL rated, designed for outdoor use and the connection is not where water could pool, in order to avoid a short circuit. An inexpensive plastic extension cord cover can further protect any outdoor extension cords from becoming a safety hazard.
When hanging lights outside, avoid using staples or nails that can damage the wiring and increase the risk of a fire. Use UL-rated clips or hangers. Remember to take the lights down within ninety days so that weather doesn't damage them and squirrels don't chew on them.
When you leave your home to go shopping or to visit friends, neighbors or relatives this holiday season, remember to unplug your Christmas tree lights. Indoor Christmas tree lights are beautiful, but they can also be dangerous. According to the National Fire Protection Association, one out of every three home Christmas tree fires is caused by electrical problems. Remember to pull out the plug when you go to bed.
Call WattsControl, Inc. at 508-309-6631 if you require assistance with your holiday lighting or for any other electrical needs.
Please take a look at our online reviews in order to see what homeowners are saying about our company on Yelp and on Google.
We'd like to wish everyone a happy, healthy and safe holiday season!