Cruising on a Saturday Night by Local Electrician WattsControl, Inc.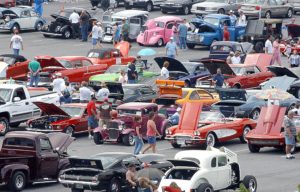 There's nothing wrong with the cars that are being manufactured today, but the older cars hold a special place in my heart.
I'm sure that everyone reading this post has fond memories of their first set of wheels. My first car was a used 1969 Oldsmobile Cutlass S convertible that had a dark green exterior, black interior and a black ragtop. I loved that car, even though the steering wheel became red hot during the summer, as did the black vinyl bench seat. I remember placing beach towels on the seat so that I wouldn't get first degree burns on the backs of my legs. But boy, was it fun to drive around town with the top down on a sunny day with my best friend. We would sing along to the tunes on WRKO. I'm really dating myself, aren't I?
On a hot summer evening, it's fun to go to local Cruise Nights. Here are some that you may want to check out:
CJ's NorthSide Grill is located at 911 Edgell Rd. in Framingham. Every Saturday night, from now through October, their parking lot is full of antique and vintage cars. This will definitely get you thinking about the car you once owned that you carefully washed by hand using a large sponge soaked in a solution of Meguiars and warm water. Then you would lovingly apply Turtle Wax with the foam applicator and when that was done, you sprayed Armour All on the interior. CJ's NorthSide Grill has a huge selection of food, including breakfast all day on Saturday and Sunday. Here is their Facebook page: https://www.facebook.com/CJs-NorthSide-Grill-222178297799787/
The Holliston Historical Society, which is located at 547 Washington St., will host its 14th Annual Father's Day Car Show on Sunday, June 19, 2016 from 8:00 AM until 10:00 AM. The show will feature antique and classic cars and motorcycles. The event is free and trophies will be awarded to the judges' favorites. A hot breakfast will be available for purchase in the Barn. It will include homemade blueberry coffee cake, scrambled eggs, sausages, pancakes, doughnuts, coffee, tea, milk etc. Proceeds will benefit the Holliston Historical Society. This would be a fun way to start off Father's Day. Here is the website for the Holliston Historical Society: http://www.hollistonhistoricalsociety.org
Another event takes place beginning on June 2nd through the end of August, on Thursday nights at Wings and Wheels at Minute Man Air Field, 302 Boxboro Rd., in Stow from 5:00 PM until 8:00 PM. It features both airplanes and cars. Food and beverages are sold. It is a donation-only event and the donations benefit local and international Rotary service projects. There is free public parking and leashed pets are allowed. Here is their website: https://wingsandwheelsma.com
The Codman Estate, which is located at 34 Codman Rd., Lincoln, MA is hosting an "Antique Auto and Classic Car Show" on Sunday, July 17, 2016 from 8:00 AM until 1:00 PM. There will be over 200 classic and antique vehicles and live music, food vendors and tours will be given of the Codman Estate. The event is free to Historic New England members and children under twelve. There is a $5.00 charge for non-members. For additional information, here is their website: http://shop.historicnewengland.org/FES-AUTOSHOW-MTX-V-7664/
If you have an electric car and need a charger to be installed, or for any other electrical issues, WattsControl, Inc. can be reached at 508-309-6631.