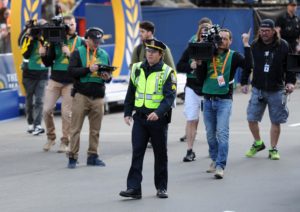 Have you ever wanted to be an extra in a movie? Casting companies are always looking to hire people to appear in upcoming movies. Boston Casting, Inc., (bostoncasting.com) has been in business for twenty-five years and is the largest casting company in New England. They specialize in casting principal roles and extras for feature films, commercials, industrials, web videos, voice-overs and reality television shows.
Massachusetts Film Office (Mafilm.org) offers a myriad of information regarding the film industry in Massachusetts. You can see what movies are scheduled to be filmed, or are currently in production.
They post notices of casting, crew and entry calls if you want to produce your own short film, documentary, feature film, or series that is unique and makes a contribution to society.
If you click on the "Locations" link, you can pull up industrial, historical, architectural, cultural, residential, seaside, mountainside and other photographic locations from within the 351 cities and towns of Massachusetts.
The film industry is a huge business in our state. Movies or parts thereof that have been filmed in Massachusetts just this year include: Manchester by the Sea, Tumbledown, The Finest Hours, Ghostbusters, Central Intelligence, The Sea of Trees, Live by Night, Stronger and Patriots Day.
Scenes from the movie "Patriot's Day", which tells the story of the Boston Marathon Bombing that occurred on April 15, 2013 were being filmed on Harrison and Dyer streets in Framingham on April 19th through 22nd. The film is being directed by Peter Berg and stars Mark Wahlberg, John Goodman, J.K. Simmons, Michelle Monaghan and Kevin Bacon. The scenes being filmed were of the police conducting a house-to-house search and of marathon bomber Dzhokhar Tsarnaev being found hiding in a boat. The film producers built a fake garage next to a house they had chosen for the set location and they also brought in a motorboat. The filming took place three minutes from my home. It was pretty cool to be able to walk around the block and observe actors in full tactical gear waiting for their scenes to be called. I even caught a quick glimpse of Mark Wahlburg getting into a black Cadillac escalade at the conclusion of one day's filming.
You never know who'll show up at a movie shoot. Boston Police Commissioner William Evans and one of his detectives drove to Framingham from Boston one evening to observe the filming. Area residents immediately recognized Commissioner Evans and gathered around him. The Commissioner took time out of his schedule to give people the opportunity to have photo ops with him. He stood on the sidewalk and conversed with everyday, working class individuals. The William Evans that I observed was considerate, friendly and humble. For a few minutes he put aside his memories of the bombing and focused on the people who wanted to shake his hand.
If you're looking to direct your own film, we can install the lighting you'll need for your sets. For non-film lighting or any other electrical needs that you have, call us at 508-309-6631.