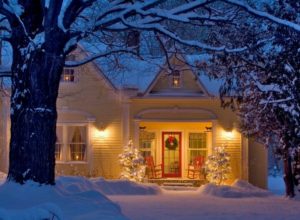 Holiday Home & Pet Safety
Are you planning to entertain during this holiday season? If so, follow these electrical safety tips in order to stay safe.
Turn off or unplug all decorations when you're going to sleep or leaving your house.
To avoid overheating or a fire, never place extension cords under rugs or carpets, pinched down by furniture or between windows, located near a heat source, or attached by nails or staples.
Also, never use an extension cord or power strip for heaters, as this could cause the cord to overheat and result in a fire.
Never connect more than three strings of incandescent lights. More than three strands could trip a circuit breaker and can also start a fire. LED lights are cooler than incandescent lights and use less energy.
Multi-outlet power strips and extension cords are useful for decorations but plugging in too many items that use electricity can overload your home's electrical capacity and cause a fire.
Inspect electrical decorations and ornaments for damage before using them. Check for loose or bare wires, cracked or damaged sockets, loose connections, broken or sharp edges and other hazards. Damaged decorations or ornaments could cause a serious shock or start a fire
We all love our fur children. We keep them safe and protect them from danger
throughout the year but we need to be especially vigilant during the holiday season.
Keep the following information handy in order to make sure that your pets stay safe
this holiday season.
Christmas tree water is a breeding ground for bacteria and can cause your pet to become ill.  Bacteria, mold and fertilizers can cause your pet to become extremely sick with only a few laps of water. Keep the water covered and blocked off to prevent pets from accessing it.
If ingested, the needles of the tree can cause gastrointestinal irritation, obstruction and punctures.
ngested tinsel can cause an obstructed digestive tract, which causes severe vomiting, dehydration and can even lead to surgery.
Lit candles can burn a pet or cause a fire if a pet knocks them over.
Keep all wires, batteries, glass or plastic ornaments away from your pet. Your pet can be electrically shocked, burned or need surgery if ingested.
Don't leave any adult alcoholic beverages unattended.  If a pet drinks them, he could become weak, ill and may even go into a coma, possibly resulting in death from respiratory failure.
Holly, mistletoe, lilies, daffodils, amaryllis and Christmas cactus are toxic to pets.
Chocolate and xylitol are lethal to dogs and cats.
---
AFCI BREAKERS & OUTLETS
Protect your family and home with Arc-Fault Circuit Interrupter Breakers and Outlets.
This smart technology temporarily disables circuits when they detect potentially dangerous electric leaks. It's estimated that half of the electrical fires that occur every year could be prevented by AFCI's.
Arc-faults are caused by puncturing of wire insulation from picture hanging nails or staples, poorly installed outlets or switches, extension cords caught in doors or under furniture and natural aging. They can also be caused by loose, damaged, or corroded wires or terminals.
———————————————————————————————————————————————————————————-
Did you know…
Carson Williams spent nearly two months programming 25,000 lights to the Trans-Siberian Orchestra's "Wizards in Winter," which he transmitted through a FM channel. The Mason, Ohio, display became one of YouTube's 
early viral videos
 in 2005 and has more than 11 million views today. "It just shocked everybody that it took on a life of its own," TSO creator Paul O'Neill told the
Pittsburgh Post-Gazette
. "When you go to Disney World or MGM, all the lights are all going off to Trans-Siberian Orchestra music."
This was the precursor to the elaborate light displays that are created today: