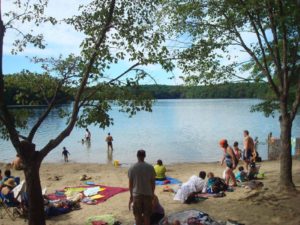 This summer is turning out to be quite a hot one! It's important to know that heat and humidity not only makes you feel uncomfortable, but it can also be detrimental to your health.
Make sure to drink plenty of water and juice as your body can get dehydrated very quickly.
The National Oceanic and Atmospheric Administration (noaa.gov) issues heat advisories. Their website posts the following information:
A HEAT ADVISORY MEANS THAT A PERIOD OF HOT TEMPERATURES IS EXPECTED. THE COMBINATION OF HOT TEMPERATURES AND HIGH HUMIDITY WILL COMBINE TO CREATE A SITUATION IN WHICH HEAT ILLNESSES ARE POSSIBLE. DRINK PLENTY OF FLUIDS…STAY IN AN AIR-CONDITIONED
ROOM…STAY OUT OF THE SUN…AND CHECK UP ON RELATIVES AND NEIGHBORS.
TAKE EXTRA PRECAUTIONS…IF YOU WORK OR SPEND TIME OUTSIDE. WHEN POSSIBLE…RESCHEDULE STRENUOUS ACTIVITIES TO EARLY MORNING OR EVENING. KNOW THE SIGNS AND SYMPTOMS OF HEAT EXHAUSTION AND HEAT STROKE. WEAR LIGHT WEIGHT AND LOOSE FITTING CLOTHING WHEN
POSSIBLE AND DRINK PLENTY OF WATER.
TO REDUCE RISK DURING OUTDOOR WORK…THE OCCUPATIONAL SAFETY AND HEALTH ADMINISTRATION RECOMMENDS SCHEDULING FREQUENT REST BREAKS IN SHADED OR AIR CONDITIONED ENVIRONMENTS. ANYONE OVERCOME BY HEAT SHOULD BE MOVED TO A COOL AND SHADED LOCATION. HEAT STROKE IS AN EMERGENCY…CALL 911.
The Massachusetts Department of Environmental Protection issues air quality advisories to advise people that ground level ozone concentrations within the region may approach or exceed unhealthy standards. What this means in laymen's terms is that the higher the AQI (Air Quality Index) number, the greater risk there is for health issues pertaining to heart and lung function. To view the ozone levels on any given day, go to this website: http://public.dep.state.ma.us/massair
If you don't have a swimming pool in your backyard, a great way to cool off when the heat is getting to you is to go a state park. State parks provide you with many activities to enjoy such as swimming, boating, picnicking, trails to ride a bicycle or hike on, fishing and windsurfing.
Here are some local state parks:
Ashland: Ashland State Park at 162 West Union St.
http://www.mass.gov/eea/agencies/dcr/massparks/region-north/ashland-state-park.html
Concord & Lincoln: Walden Pond State Reservation at 915 Walden St.
http://www.mass.gov/eea/agencies/dcr/massparks/region-north/walden-pond-state-reservation.html
Hopkinton: Hopkinton State Park at 164 Cedar St.
http://www.mass.gov/eea/agencies/dcr/massparks/region-north/hopkinton-state-park.html
Natick: Cochituate State Park at 43 Commonwealth Rd. (Rt. 30). http://www.mass.gov/eea/agencies/dcr/massparks/region-north/cochituate-state-park.html
Take good care of your pets this summer. They get hot quicker than you do due to their fur coats. If you own a medium or longhaired cat or dog, consider having their fur shaved or getting them a lion cut. Make sure that pets have access to plenty of fresh water throughout the day. Never leave a pet inside your car during the summer, even for a few minutes. At 73 degrees outside, the closed interior of an SUV can heat up to 100 degrees in ten minutes and to 120 degrees in just thirty minutes. At 90 degrees outside, the interior of a vehicle can heat up to 160 degrees within several minutes. It doesn't make a difference if your windows are closed or open several inches – heat can kill an animal. There is no such thing as shade on a hot day. If you love your pet, do not bring them with you in your car.
Don't forget our fine-feathered friends. A birdbath enables birds to cool off when the weather gets hot and also provides them with water to drink.
For outdoor lighting or any other electrical needs that you have, call WattsControl, Inc. at 508-309-6631.