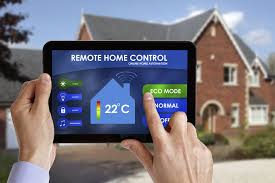 Have you ever been on your way to work or the airport and that little voice in your head asks, "Did I lock the door? Did I set the security system? Did I remember to lower the thermostat? Did I close the garage door? Did I turn off the coffee maker?" With a Smart Home, you could quiet all these worries with a quick glance at your Smartphone or tablet.
A "Smart Home" or " Home Automation" are terms commonly used to define a residence that has appliances, lighting, heating, air conditioning, TV's, computers, entertainment, audio & video systems, and security systems that are capable of communicating with one another. They can be controlled remotely via a time schedule, or from any room in the home, as well as remotely from any location in the world by phone or Internet.
Your devices and appliances are networked together so that you can control all aspects of your home and more. You dictate how a device should react, when it should react, and why it should react. You set the schedule and the rest is automated and based off of your personal preferences, thus providing convenience, control, money savings and an overall smarter home. Home automation can also alert you to events that you might want to know about right away while you are gone, like water leaks and unexpected assess to your home, or any part of it. At any time, you can grab your iPhone, Android device or other remote control and change the settings in your house as desired.
The smart home can even send you an immediate alert if your children open things like cleaning supply cabinets or liquor or medicine cabinets. It can also tell you if they're watching television when they're supposed to be doing their homework.
An important feature of a smart home is conservation of the world's limited resources. Many home controllers have built in monitoring systems whereby they calculate and log usage by all connected devices, giving the homeowner heightened awareness and the knowledge to make changes as necessary.
Wouldn't you like to have the peace of mind of knowing that you can keep an eye on your home even when you're away?
Call WattsControl, Inc. at 508-309-6631 to turn your current home into a "Smart Home" or for any other electrical needs.