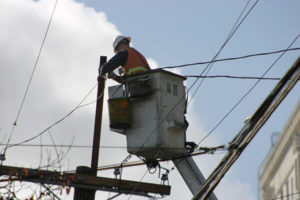 The long days of summer are gone and now it is time to prepare our homes for the very short days of winter. Shorter days mean you will likely be coming and going from your home in the dark. While many people think of landscape lighting as a summer thing, it is actually even more beneficial during the winter when the days are shorter. You can ensure your home and landscaping looks great while providing a layer of safety and security for your family. An electrician in Newton, like those at Watts Control, can help you get your outdoor areas lit for winter.
Solar lighting that you stick in the ground is a great option for summer when there is plenty of sunshine to charge the lights during the day. However, winter months tend to be dreary and the sunlight is minimal, which can leave your lights weak and unable to last through the night explains an electrician. Newton homeowners will appreciate the reliability of electric-powered landscape lights that remain bright throughout the entire night. Unlike solar lights, you can have shady areas under trees and in between hedges lit with electrical lights that don't require the sun to charge.
The lights are installed by a Newton electrician and wired into your home's main electrical. You can choose to have the lights put on a timer, ensuring they are on when you need them and you never have to come home to a dark driveway or walk up a dark walkway. This will also give you full control to turn the lights on and off as needed. The lights can be as dim or as bright as you like. All you need to do is head to the home improvement store and browse the various styles and make your choice. Then, call Watts Control to schedule the installation before the first snowfall.